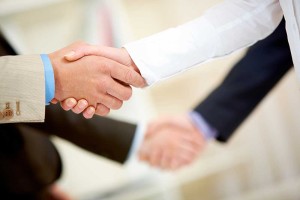 The decision to sell your business is a challenging and oftentimes an emotional decision. You have spent much of your energy, money and time building your successful business and now you are ready to move forward in a different direction in your professional life.
Understandably, you would want maximum return on your business investment and to find an excellent successor to take over the wonderful business you built—someone who will care and love your business as much as you did during your time building and growing it.
At BC Estate, we understand where you're coming from, and we are here to assist in the successful sale of your business, with maximum return and peace of mind having a great successor.
We provide results-based business brokering service that foster the:
Maximum sale price for your business
Quick sale transaction
Smooth transition to a successor
Security and isolation from the successor's future business practices
Most of all, we create a Win-Win result for all parties involved with or affected by the sale of your business. This means:
You get your well-deserved return on your business investment
The buyer of your business gets a great business that you created and built
The staff continues to enjoy gainful employment
We receive remuneration for our business brokering services
The landlord of the premises has continuity of tenancy for his lease space
The community continues to enjoy and receive quality lifestyle from the products or services of the business you created
The society infrastructure and social services continues to improve through the tax collected from the continuity of the business
And the goodwill and good sentiments amongst all parties involved
At BC Estate our intention is to always create a Win-Win result for our community and our clients. This means you have peace of mind knowing the sale of your business is done in the most ethical fashion, with and the highest level of fairness amongst all the parties involved.
How We Assist You
The process of selling a business is complex. Each stage has a different set of challenges and knowledgebase required to navigate through it successfully.
Our experienced and knowledgeable business brokers are here to make the entire process easy to understand and simple to follow, which means all parties move forward with confidence—steadfast in completing the transaction.
We assist in every step of the way including:
Business assessment
Business valuation
Business photography and enhancement
Sales copywriting
Promotional graphics and design (if required)
Marketing and advertising
Inquiry and lead qualification
Business showings
Enforceable contract preparation
Diplomatic Win-Win negotiations
Due diligence guidance and navigation
Lawyer collaboration (if required)
Accountant collaboration (if required)
Other professional collaboration (if required)
Lease assignment preparations
Landlord communications
Condition removal
Deposit handling
Lease assignment execution
Completion of the purchase and sale
Post-sale covenant performance
Whatever the reason may be for the sale of your business, you deserve the best possible result. At BC Estate, we're here to help business owners, franchisors and entrepreneurs like you achieve just that.
Evaluating Your Business
The first step in the business brokering process is to conduct a business assessment. This will reveal your business's unique features, strengths, quality, opportunities and desirability. During this process we examine your business's financials, list of equipment, leasehold improvements, soft assets, location quality, lease terms, contracts, client database, market position and all other potential selling features your business may have.
We use this business assessment in creating our marketing, advertising and promotional materials in attracting qualified buyers to your business.
We then evaluate the business for an estimated fair market value. We take into consideration all of your business's unique features and attributes. We also take into account current market conditions in your specific industry and location, the business investment market as a whole and the current economic state of the area.
We then formulate the estimated fair market value that will yield the maximum price for your business and is yet attractive to potential buyers. This allows the swift sale of your business while giving you the return you deserve.
Marketing Your Business
Marketing your business requires the fine balance of art and science. We take into account both the technical, quantitative features and the aesthetic, qualitative attributes of your business to craft the most effective marketing strategy. Using eye-pleasing photography, creative copywriting and skillful graphic design, we create a high-impact advertising campaign that attracts quality and qualified buyers to your business.
Managing Inquiries & Showings
While running our marketing campaign, interest in your business grows and inquiries begin to arrive. We go through an extensive process of qualifying potential buyers—evaluating each to determine if they are a suitable candidate. There are many factors beyond financial capability that we consider in qualifying potential buyers. The business sales process is lengthy, so we ensure that the potential buyer is one who has all the qualifications to complete the transaction successfully. This means, you save time and energy by only entertaining viewings and offerings from highly qualified buyers.
Contract preparation
Once we have a qualified potential buyer who is ready to move forward in making an offer to purchase your business, we proceed to write a Contract of Purchase and Sale that is:
Legally enforceable
Timeline sensitive
Performance based
Comprehensive
Confidential
Informative
Definitive
Detailed
Secure
Clear
Aligned with the laws of Canada and the Province of British Columbia
Win-Win proposition
Our Contract of Purchase and Sale is very clear and covers such details as:
Purchase price
Deposit
Inventory
Staffing
Premises
Equipment
Soft assets
Financials
Licenses & Permits
Lease & Landlord
Training
Taxation
Post closing covenants
and many other particular details of your business
Our Contract of Purchase and Sale has been prepared by our legal counsel and is revised regularly to ensure up-to-date legal enforceability and ongoing improvements in the terms and conditions for business purchase and sale transactions. This provides for you peace of mind, knowing our contract is legally binding, clear, fully detailed and of Win-Win proposition.
Offer negotiations
Once a buyer has completed and signed the Contract of Purchase and Sale, we begin the negotiation process. We employ the highest standard of diplomacy, tactfulness and professionalism in materializing the best possible outcome. We will carry a deal through only if it is a Win-Win for all parties involved and affected. This is our top mandate during this phase of the offer process.
This means you, the seller, wins by getting your well-deserved remuneration for the business you built. The buyer wins by getting an outstanding business for great value. The staff wins by getting continued employment and the community wins by the ongoing products or services which this business will continue to provide for the community's enjoyment and lifestyle.
Due Diligence
Once an offer has been accepted by both parties, we proceed with due diligence. During this phase, we provide to the buyer all forms of documentations and disclosures that they requested in the Contract of Purchase and Sale for their review and approval.
Typical requests may include:
Equipment list
Financial statements
Premises drawings
Premises lease agreement
Equipment lease agreements (if any)
Business license
Health permit
Liquor license
Awards and Recognitions
Franchise agreements
Clearance letters
Client contracts
Trademark registrations
Patent registrations
Copyright registrations
Exclusivity agreements
Certificate of Incorporation
Websites and Emails
Social media sites
List of product lines
Allocation of purchase price
During the due diligence process the buyer may choose to hire a lawyer, accountant, building inspectors, equipment specialists, general contractors or other professionals to assist with the document reviews and business due diligence. We are always happy to cooperate with all professionals that the buyer wishes us to liaise with. We ask you, the seller, to please give full cooperation to the buyer and their professionals in conducting their due diligence so that the buyer will continue to move forward with confidence and clarity in every aspect of the business.
There is also due diligence which you as the seller will review and approve. It includes:
All applications in transferring all contacts, permits and licenses to be assigned from the seller to the buyer
Allocation of purchase price
Contract of purchase and sale
Lease assignment of the premises
Lease assignment of any leased equipment
Lease termination (if applicable)
We advise you to seek independent professional and legal advise in reviewing all such documents and proceedings. This way you are confident and clear of all your obligations and covenants in the sale of your business, including all post-sale covenants.
Lease Assignment
Once you and the buyer are satisfied and have approved the due diligence reviews and proceedings with your professional advisors, we move forward to the lease assignment process. This is the final stage of the due diligence. In this process we prepare the buyer to meet the landlord's requirements in assigning the existing lease. Landlord requirements vary greatly, so at BC Estate, we have formulated a highly successful method of approving buyers for the lease assignment.
There are also instances where it may be best to obtain a new lease, in which case we prepare a formal offer-to-lease with the landlord. We will then assist the buyer through the process of the offer-to-lease proceedings. In the instance where a new lease is required, it may add several weeks to the business purchase timeline. This is because the offer-to-lease process is a fully involved round of negotiations with many terms and conditions to be identified, negotiated and agreed upon by the buyer and the landlord.
During the lease assignment proceedings, we may be called upon to deal with the landlord's professional advisors, including the landlord's leasing agent, asset manager, property manager or lawyer. We at BC Estate are experienced and tactful in dealing with such professional entities, allowing us to successfully assign the lease to the buyer and proceed with the sale of your business.
Condition Removal and Deposit Handling
Once the landlord has approved the lease assignment, we are ready to remove all buyer and seller conditions. BC Estate will prepare a condition removal form for both the buyer and the seller to sign.
Once the condition removal forms are signed, the purchase agreement is now called a "Firm deal." A deposit is requested of the buyer and placed in trust with BC Estate. The deposit is held in accordance with the provisions of the Real Estate Services Act. This is peace of mind that your business is sold firm with a deposit received and held in trust, governed by the strictest standards of the Real Estate Services Act.
Completion of the Purchase and Sale
During the completion of the sale, BC Estate will prepare all completion documents and proceedings. On the date of completion, buyer, seller and a BC Estate business broker will be present to witness and execute the completion of the sale of the business.
Alternately, the buyer and seller may choose to hire their lawyers to conduct the completion proceedings. BC Estate is happy to give full cooperation in such instance and allow the lawyers to execute the completion for the buyer and seller.
Post-sale covenant performance
Once the sale has completed, there may be a number of post-sale covenants which either the buyer or seller may be required to perform. These may include:
Training
Inventory count and payment
Introduction to vendors and suppliers
Introduction to clients
Introduction to partners
Disclosure of trade secrets and other proprietary intellectual properties
Disclosure of the full client database
Security alarm and surveillance camera access codes
Computer, website, email, social media, database, software and other electronic user name and password access
Digital assets including artwork, drawings, software, codes and engineering designs
Soft asset transfers including trademarks, patents, copyrights, exclusive rights and contracts
Equipment lease payout
Accounts receivables
Vendor finance payments
Holdback release
The performance of such post-sale covenants is a key aspect of the sale of the business and must be performed as required by the Contract of Purchase and Sale signed by both parties.
BC Estate business brokers are happy to assist in any post-sale covenant performance assistance required. We are always here to serve you in achieving a Win-Win result.
Sell Your Business Today
At BC Estate, we recognize and commend your tremendous dedication and effort in building a successful business. We firmly believe that you deserve the maximum return on the energy and creativity you have invested.
Allow us to serve you in the successful sale of your business and create a Win-Win result that gives you a well-earned return and places your business in the hands of a worthy and skillful successor who will continue the legacy that you started.
Call us now 604 500-7253