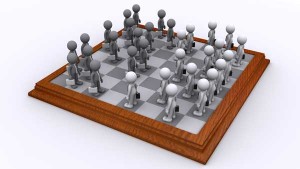 Marketing and advertising can only take you so far. If you really want your business to succeed in your marketplace – to bring in more customers, more sales and more leads than ever before – than you need to outwit your competitors, too.
To put it simply, you need to become the place to go in your industry, the one place customers want to run when they need your products, services or help.
So how do you get ahead of your competitors and up to the top of the class? Here are just a few powerful ways to do it:
1. Know the competition
Find out who your competitors are, what they are offering and what their unique selling point (USP) is. This will identify the areas you need to compete in, as well as giving you a platform for differentiating yourself. Source: The Marketing Donut
2. Position strengths to weaknesses
Even if your competitor has a better product and is willing to sell it at a lower price, you can still win. Every competing company has weak points — places where your brand can outperform. Things like domestic customer service or extended guarantees on a product can go a long way if done right.
Your job is to find these points and exploit them in your marketing and presentations. Let your prospective customers know why these selling points are important and why it makes your brand a better choice. Source: Entrepreneur
3. Have a plan for your attack
One of the best ways to get ahead of the competition in 2013 is to get some of their customers off them! Why not map out competitors accounts in your territory, then create a call plan for getting into see them, and focus on winning their business. If you're in internal sales, make notes on the prospects that are currently using your competition, then filter the data by competitors name. Then you can create a phone campaign designed specifically to convert their customers to your customers instead! Experience shows that dedicated and focused approaches like those above have a far better chance of success – and also put a big dent in your competitor's motivation at the same time. Source: Business Computing World